News Details
Received the payment of Dubai customer order flat conveyor and lifting conveyor
Author: Rose Zhen Date: 2021/7/22 11:37:56
Thanks so much for the deposit payment of flat conveyor and lifting conveyor from Dubai customer.
Our this Dubai customer is the manufacturer of plastic products, such as bottles, caps,cans,,,,,,,
Use the flat conveyor and lifting conveyor, to collecting and transport some plastic products, It's convenient for the operator to work.
Firstly, the PVC belt is about 2mm thickness, and 750w motor, 750W frequency converter. The conveyor running speed is adjustable by touch screen.
The most important thing is that those flat and lifting conveyor is customized, we add counting fuction.
For example, if you setting the quantity is 50 pcs caps, when the conveyors PLC received the signal until the output is 50pcs,
then conveyor start to run.
More detail information about flat conveyor and lifting conveyor, if you are interested in this model conveyors,
you are welcome to contact me anytime:
Contact: Rose Zhen
Tel/WhatsApp:+86 13501835549
Wechat: +86 13501835549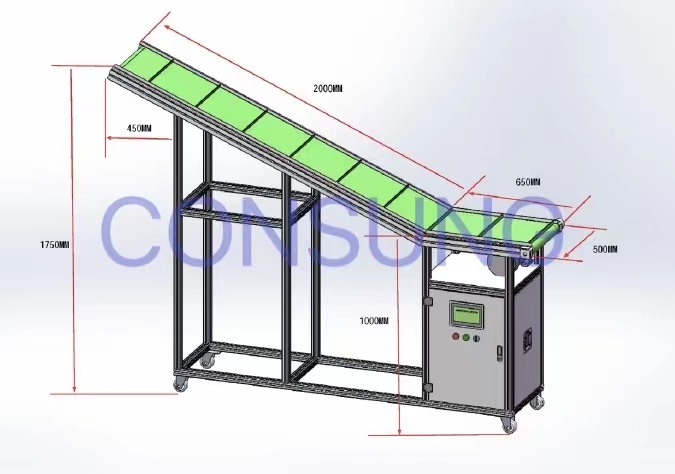 Shanghai Consung Co.,Ltd.
---
Products Catagories
News & Events
Contact Information
Shanghai Consung Intelligent Technology Co.,Ltd.
Add: Building B, No.161, Zhenye Road,Dongjing Town, Songjiang District,Shanghai
Tel.: 0086-21-67658975
Fax: 0086-21-67658975
Email: marketing@consung.com.cn
Skype: consungmachinery
Web: http://www.consung-labeling.com